Montana Milestones  (formerly Part C)
Montana Milestones is a program of early intervention services for children with disabilities ages 0-36 months. Families with children who meet the eligibility criteria established by the state are entitled to a range of services defined under federal law. Services are delivered as part of an Individual Family Service Plan (IFSP) developed in cooperation with the family. Services available include: Family Support Coordination; Assistive Technology; Audiology; Family Education, Counseling and Home Visits; Nursing; Health Related; Medical; Nutrition; Occupational, Physical and Speech Therapy; Psychological; Vision; Social Work; Special Instruction; and Transportation.

Who is eligible?
Children from birth to age three with the following criteria:
Diagnosed physical or mental condition that has a high probability of resulting in developmental delay
50% developmental delay in one developmental area or a 25% delay in two or more areas of development, including: physical (motor, vision and hearing), cognitive (thinking ability), communication (Speech and language), social-emotional (interaction with others) or self-help skills.
How is a referral made?
Any concerned person, parent, or agency may make a referral about a child who may appear to have a delay or need services to Sandy Peaslee, Early Intervention Program Director at 406-234-6034. Parental or legal guardian permission is required to make a referral. Download the referral form here.
Where are services provided?
DEAP provides this service in 10 counties in Southeastern Montana: Carter, Custer, Dawson, Fallon, Garfield, Powder River, Prairie, Rosebud, Treasure, and Wibaux.
Early Childhood
"Learn the Signs. Act Early." has developed a free library of photos and videos demonstrating developmental milestones from 2 months to 5 years of age. The Milestones in Action library was created to help parents, early care and education providers, and healthcare providers identify developmental milestones in very young children and recognize any areas of concern. No permissions are needed to use the photos and images in this library for educational or awareness-building purposes. Visit the Milestones in Action Photo and Video Library now >>
Resources
Part C Early Intervention Program brochure >>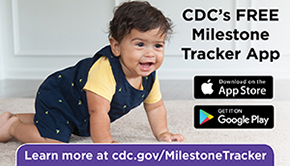 Infant and Toddler Program – Parent Handbook:
A Guide to Montana Milestones Services for You and Your Child (click to download)
State of Montana: About Part C
Montana Guidance: Children Transitioning from IDEA Part C to IDEA Part B (July 2013)
Parents, Let's Unite for Kids, Parent Training Information Center
ECTACenter.org : The Early Childhood Technical Assistance Center
Part C (Montana Milestones) brochure
A Family Guide to Participating in the Child Outcomes Measurement Process
Developing Social-Emotional Skills • ZERO TO THREE