Preadmission Screening and Resident Reviews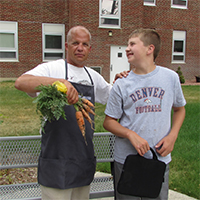 PASRR provides services to nursing facility residents with developmental disabilities to confirm appropriate placement and to assess and provide ongoing specialized services.
Who is eligible?
People living in nursing homes who are eligible for disability services as determined by Montana Developmental Disabilities Program. DEAP can help complete the process to determine eligibility.
There is no waitlist for this program.
How is a referral made?
Referrals are generally made by the State of Montana in partnership with nursing homes across the region. DEAP can help with this process if you would like to self refer by calling 406-234-6034.
There is not a waitlist for this program.
Where are services provided?
DEAP provides this service in the following counties in Southeastern Montana: Carter, Custer, Daniels, Dawson, Fallon, Garfield, McCone, Phillips, Powder River, Prairie, Richland, Roosevelt, Rosebud, Sheridan, Treasure, Valley, Wibaux
Big Horn, Carbon, Fergus, Golden Valley, Judith Basin, Musselshell, Petroleum, Stillwater, Sweet Grass, Wheatland, Yellowstone