DEAP is a private, not for profit corporation that relies on donations from generous contributors.  Your tax deductible donation to DEAP is very, very much appreciated. We can use all the help we can get in assisting our Montana neighbors in need.
---
We offer several easy ways you can help out Montana families with your donation:
Donate on VENMO > search for @DEAPMT
---
Checks•Money Orders
Donations by check or money order can be mailed into our office at:
DEAP • 2200 Box Elder • Suite 151 • Miles City, MT 59301
PayPal
PayPal accepts VISA, MasterCard, American Express & Discover. You do not require a PayPal account. Simply click the PayPal button below.
---
DEAP License Plate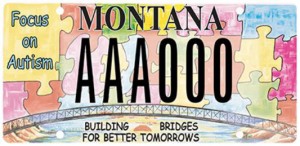 Purchase of this plate benefits DEAP in helping to provide services to individuals with autism and their caregivers; including public awareness and education, evaluation and diagnosis, and applied behavioral intervention.
Initial Cost: $40
$20 Donation to Sponsor
$10 Administration Cost
$10 Production Cost
Annual Renewal Cost
$20 Renewal Donation