Part C Early Intervention (for children with delays)
Montana Milestones
Montana Milestones is a service that provides early intervention for children with developmental delays ages 0-3 years using a team approach. Families with children who meet the eligibility criteria of an established condition or measured delay are entitled to a range of services defined under federal law. Services are delivered as part of an Individual Family Service Plan (IFSP) developed with the families goals for their child taking center stage and with input from professionals on the child's team. Services available include: Family Support Service Coordination; Family Training, Special Instruction, Social Work, Occupational Therapy, Physical Therapy Speech Therapy, Assistive Technology, Audiology,  Psychological Services, Respite, Sign and cued language services, travel expenses and vision needs.
Who is eligible?
 The State of Montana sets the eligibility criteria for services. Children from birth to age three years that meet the established condition or measured delay criteria:
Established Condition: a diagnosis by a physician or psychologist that is likely to result in a developmental delay or disability; or
Measured Delay: Two or more 25% developmental delays in the five developmental domains or one 50% developmental delay in the five developmental domains.
There is never a waitlist for Part C services
How is a referral made?
Any concerned person, parent, or agency may make a referral about a child who may appear to have a delay or need services to our offices:
For referrals in the following Southeastern Counties: Powder River, Carter, Rosebud, Treasure, Fallon, Custer, Dawson, Garfield, Prairie & Wibaux – please call Sandy Peaslee, Early Intervention Program Director at 406-234-6034.
For referrals in the following Northeast Counties: Phillips, Valley, Daniels, Sheridan, Roosevelt, McCone & Richland – please call 406-228-9431.
Where are services provided?
DEAP provides this service in 10 counties in Southeastern Montana: Carter, Custer, Dawson, Fallon, Garfield, Powder River, Prairie, Rosebud, Treasure, and Wibaux.
Resources
Milestones in Action Photo and Video Library now >>
"Learn the Signs. Act Early." has developed a free library of photos and videos demonstrating developmental milestones from 2 months to 5 years of age. The Milestones in Action library was created to help parents, early care and education providers, and healthcare providers identify developmental milestones in very young children and recognize any areas of concern. No permissions are needed to use the photos and images in this library for educational or awareness-building purposes.
Download CDC's free app to track your child's milestones!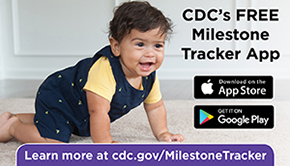 Check out Milestones in Action Photo and Video Library now >>
The Milestones in Action library was created to help parents, early care and education providers, and healthcare providers identify developmental milestones in very young children and recognize any areas of concern
Here is a copy of DEAP's Infant and Toddler Program – Parent Handbook:
A Guide to Montana Milestones Services for You and Your Child (click to download)
Want more information from the State of Montana about Part C services?  Click Here: State of Montana: About Part C
A welcome to families to Part C services from our partners at the national level:  ECTACenter.org : The Early Childhood Technical Assistance Center
Helpful resources to develop Social Emotional Skills:
Developing Social-Emotional Skills • ZERO TO THREE