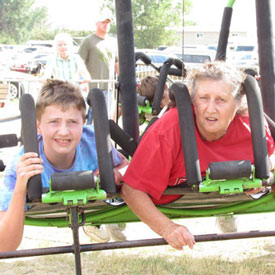 DEAP's Supported Living services provide individually tailored systems of support to enable children and adults with developmental disabilities to live as independently as possible in their community.  A team of professionals develops a Personal Support Plan outlining the individual's goals.  Services provided may include a Direct Support Professional to work one-on-one with the individual on their goals, group and community activities, transportation, respite to provide the family with a break in caregiving, adaptive equipment or environmental modifications such as a wheelchair ramp. These services are often funded by the 0208 Medicaid Waiver but can also be provided through private pay arrangements.
Who is Eligible?
To receive the Medicaid waiver to pay for Supported Living services you  must be an adult or child over the age of 8 who is diagnosed with a developmental disability (IQ 70 or below) and have been determined eligible through the Montana Developmental Disabilities Program. In rare cases, children under the age of 8 may be selected for services through the emergency funding process. There is an extensive state-wide waiting list for waiver services, so individuals should be placed on this waiting list as soon as possible. The State of Montana manages the waitlist.
How is a Referral made?
Once selected as a recipient for Supported Living services by the State of Montana, your case manager or Family Support Specialist, will help refer you to a provider of your choice in your region, such as DEAP. Referrals can also be made statewide.
If you are interested in setting up a private pay arrangement for these services, please call DEAP at 406-234-6034 and speak with Brooke.
There is not a waitlist for these services at DEAP.
Where are services provided?
DEAP provides this service in 10 counties in Southeastern Montana: Carter, Custer, Dawson, Fallon, Garfield, Powder River, Prairie, Rosebud, Treasure, and Wibaux.
Resources
Visit the State of Montana's website to learn more about the Developmental Disabilities program:  on Developmental Disabilities Services in Montana, click here.